Center Yourself
With a Tibetan Singing Bowl
Experience the magic of a handcrafted singing bowl
Shop Now
WHY PLAY A SINGING BOWL?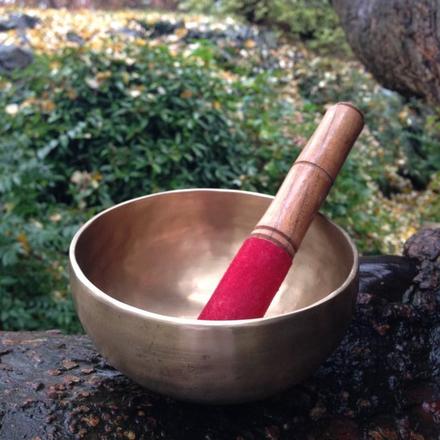 According to ancient Tibetan teachings, the existence of singing bowls dates back to the time of Buddha. Singing bowls produce beautiful music which invokes deep meditative and peaceful states. Singing bowls are often used in yoga, reiki, music therapy, and sound healing. The rich harmonies produced by singing bowls help balance the body's chakras, eliminate stress, and promote holistic healing.
Our handmade singing bowls are unparalleled in beauty and quality. Each bowl is carefully hand-crafted by skilled Tibetan artisans using traditional techniques. In accordance with an ancient Tibetan formula, our singing bowls are made of "panchaloga", which is a Sanskrit word meaning a five-metal alloy that includes copper, zinc, iron, and traces of gold and silver. Our bowls create an incredible sound with rich, warm and vibrant overtones. Each bowl also comes with a gorgeous hand-carved wooden mallet. The result is a beautiful piece of functional art with incredible healing properties.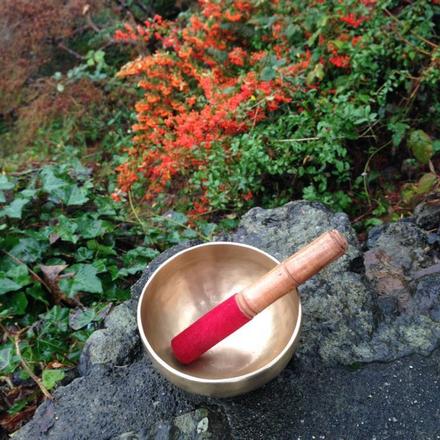 Each of our singing bowls has been determined to be of master quality, which means that they have been rigorously tested to ensure that they meet our highest quality control standards. As a result, each of our singing bowls is among the finest in the world for aesthetic quality, richness of sound, sustainment of tone, and ease and smoothness of playing. Our singing bowls are of exceptional quality and will last a lifetime. While singing bowls of this quality typically retail for hundreds of dollars, we've decided to make them available at a much more affordable price in order to share their amazing healing properties.
How to Play Your Singing Bowl
Your singing bowl can be played in different ways to produce a variety of beautiful and healing sounds. Striking your bowl with the mallet will produce soft gonging tones. You can also use the mallet to rub your bowl's rim in a circular motion to create a profound harmony of sound, which is known as making the bowl "sing".
Why Using a Singing Bowl Can Change Your Life
Singing bowls have incredible healing effects and are widely recommended by health practitioners. The vibrations created by a singing bowl benefit the body by reducing stress, positively affecting the nervous and immune systems, inhibiting pain, combating depression, and balancing the chakras.

In Ayurvedic medicine, illness is caused by disharmony within the body. Because matter is energy that vibrates at different rates, the structure of matter can be changed by altering the rate of vibration. The body and mind are healthy when they vibrate in harmony.

When you play a singing bowl, the vibrations cause the right and left sides of your brain to synchronize and emit alpha and theta brain waves in synchronicity with the vibrations emanating from your singing bowl. Theta brainwaves are essential to healing the body and mind and create an experience commonly known as "being in the zone". This synchronization brings your body and mind into harmony and helps you enter deep meditative states, receive intuitive messages, and engage in creative thinking.
WHAT SOME OF OUR CUSTOMERS ARE SAYING

"I absolutely love my new singing bowl! It's gorgeous and has the most amazing sound! It's also a lovely decorative piece for my apartment – everything down to the hand-carved mallet is beautifully made. The price was also incredible – I see bowls like this in the stores for $200+! I'm buying another two for my mom and sister!"
– Karen, New York

"I'm a yoga instructor and have a couple other singing bowls that I often use to start and end meditation in my classes. I added this bowl to my collection recently and it has quickly become my "go to" bowl. I am so impressed with the quality and value of this singing bowl! It's a work of art and the sound is top quality. I love having singing bowls near me!"
– Chloe, Los Angeles

"A good friend recently introduced me to this singing bowl. As soon as I learned to make the bowl sing, I wanted to get one for myself! I use it during my meditation practice and I really find it helps center me."
– Drew, Portland

"I use this bowl during reiki treatments and it's such a joy to play. A couple of my clients have been curious about them after their session, and I always refer them here. Thanks for making this affordable!"
– Jason, D.C.
START ENJOYING THE HEALING PROPERTIES OF YOUR OWN SINGING BOWL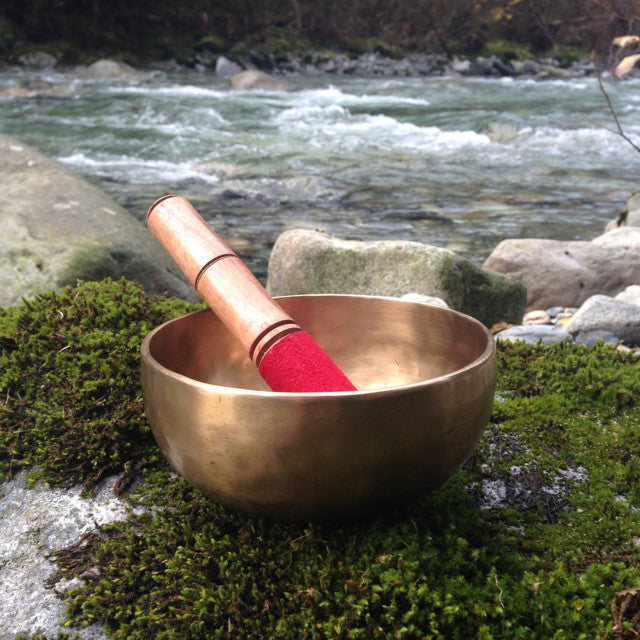 We ship within 1 business day worldwide directly from the USA!
Your satisfaction is 100% guaranteed! We know you'll love your singing bowl, but if you are unsatisfied for any reason, simply mail the bowl back to us and we'll provide a full refund. Learn more about our
return policy.
SUBSCRIBE TO OUR NEWSLETTER
Receive exclusive deals and our latest blog posts straight to your inbox!